Teach Your Teen to Drive…and stay alive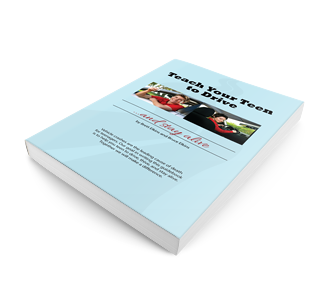 Teach Your Teen to Drive…and stay alive contains many useful safe-driving tips and thought-provoking exercises, and can be read by anyone at any time. However, the helpful exercises in the book are designed to assist parents and teens though the supervised practice driving portion of the licensing process.
How it Works
Teach Your Teen to Drive…and stay alive is the critically acclaimed booklet that helps parents and teens to fulfill every state's supervised practice driving requirements. (California law requires at least 50 hours of supervised practice driving, at least 10 hours of which must be at night.)
Section 1 discusses the critical importance of safe driving behaviors, provides introductory information, and explains how the training exercises in the following chapters work.
Section 2 is comprised of eight simple, life-saving lessons that feature innovative teaching techniques: Parents demonstrate each drill three times, followed by the teen performing the drill three times. These drills teach your teen driver everything from the mastery of turning to nighttime and freeway driving. Each lesson covers the nuts and bolts of driving—the who, what, where, and when of safe motor vehicle operation. And, of course, the book focus on working with you throughout to reduce anxiety and make the experience fun.
At the end of each series of drills is a culmination drill that calls upon the teen driver to performing each drill in unison in one grand finale. And to celebrate your successes behind the wheel, each lesson concludes with a fun "ice cream social," where you and your teen get dinner, ice cream, a movie, coffee, or some treat that you both love, creating memories that will last a lifetime.
Section 3 is a free-to-download digital addendum that supplements the chapters of the guidebook and focuses on discussion items that you and your teen can cover at night—such as short stories about the damage that can be done by loose items in your vehicle or the 10 most dangerous foods to eat while driving (hint: all are hot and/or gooey ones that can cause distractions!).
Why It Works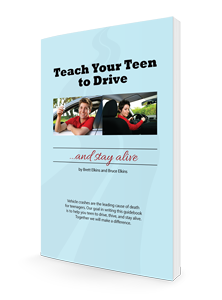 Almost everyone is naturally anxious about teaching or learning how to drive. We've developed a technique by which the parent first performs each driving drill three times, followed by the teen performing the drill three times. Parents are more relaxed, and the teen can also relax and observe without worrying about immediately taking control of the vehicle. The process allows teens to build confidence and reinforces safe-driving techniques through repetition.
And the culmination drill at the end of each section puts it all together—just like drivers need to do in the real world. This process also reinforces the skills learned in each chapter and provides valuable behind-the-wheel experience.
The ultimate goal of Teach Your Teen to Drive…and stay alive is to make sure the driving lessons you learn together will be some of the most memorable experiences in your lifetime. We believe you'll enjoy our book and the experiences that it brings. But most importantly, we hope you and your teen will always work together to be an active part of the community striving to reduce the more than 30,000 traffic deaths that senselessly happen every year—deaths that, in many cases, could have been prevented with safe-driving techniques. We believe that, together, we can make a difference.
About the Authors
Bruce Elkins has a master's degree in public health and safety from California State University, Los Angeles (CSULA) and a Bachelor of Science from the University of Southern California (USC). Mr. Bruce Elkins has taught traffic safety education for over 40 years with his humorously engaging personality. While working in the Los Angeles Unified School District (LAUSD), he helped create the initial curriculum for LAUSD's juvenile and adult programs as a supervisor for the driver education/training. He is currently the president of Cheap Traffic School, one of the nation's largest traffic schools.
Brett Elkins earned his Bachelor of Science, magna cum laude, from USC. He is president of the largest traffic safety and driving school association in California: "Traffic Safety Educators Association of California" (TSEAC). Mr. Brett Elkins is a past executive vice-president for the California Traffic School Association (CTSA) and legislative director. He lives in Los Angeles with his loving wife Deborah and their four children.