About Teen Driving Online
Let's face it: You want a driver education program that you can "cruise" through, not one that "drives" you crazy! At TeenDrivingOnline.com, we're serious about safety, but we think driving should be fun! We make sure that, as a new driver, you know the rules of the road and develop defensive driving habits—but we make sure you have a good time learning safe-driving techniques!
---
Driver Education Made Simple
Online Driver Ed
With TeenDrivingOnline.com, you'll get the same state-approved material you'd learn in a driver ed classroom—right from your computer, any time you want! Our website is available 24/7, and you can complete this online course on your smartphone, tablet, or other Internet-enabled device.
Our driver education program is simple and convenient. The easy-to-read text is supplemented with informative photos, colorful charts and illustrations, streaming video clips, and interactive activities that thoroughly explain the subject matter and make learning fun.
TeenDrivingOnline.com is a DMV-licensed driver ed provider.
Skip the classroom and enjoy the flexibility of studying online at your own pace.
Learn the rules of the road and know the law.
Prepare to pass your DMV exam and learn helpful safe-driving techniques.
The fast, easy, convenient way to pass driver ed!
Your tuition includes everything you need: the entire cost of the program and your Certificate of Completion. Registration and payment are fast, affordable and secure, and you can pay for the course directly on the site (via credit card (Visa, MasterCard, Discover, or American Express) or other debit card options). If you're uncomfortable submitting payment online or if you have any other questions, you can contact customer service to make payment by telephone.
Completing the Program
This online driver education course is designed to present 30 hours of instructional material (the state-required minimum). However, the course is broken into manageable, easy-to-digest lessons, and the system remembers your progress if you sign out. Work through the program at your own pace—as quickly or as slowly as you like.
A short, multiple-choice quiz follows each chapter, to help you review. Once you've completed the reading material, you'll take a 50-question, multiple-choice exam. But don't worry—you're guaranteed to pass. You only need to score an 80%, and you can take another exam as many times as you need to in order to pass. And once you're done, you can head to the DMV to get your learner's permit and start your behind-the-wheel training!
Upon your successful completion of the program, we'll mail your original Certificate of Completion directly to you. You'll need this document to take the DMV written exam. (Certificates are processed on the business day following your completion. Expedited shipping options are available if you need your certificate right away.) If you ever have any questions about the course or your completion, we're here to help with the best customer service in the industry.
---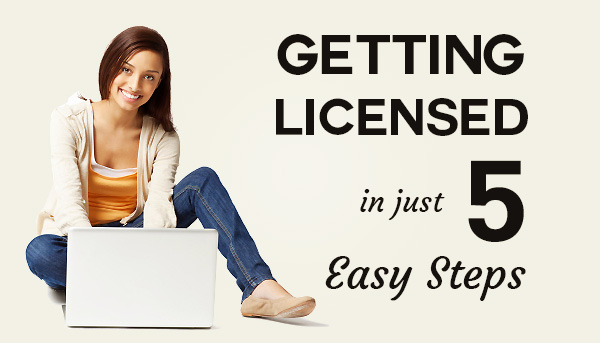 Getting Licensed
Learning to drive and getting your license can be exciting, but it can also be overwhelming. It's natural to be confused about the licensing process: There are a lot of regulations, and it seems complicated. Fortunately, TeenDrivingOnline.com presents an easy-to-follow guide to assist you through the process. Here's how to get your license, in five easy steps:

---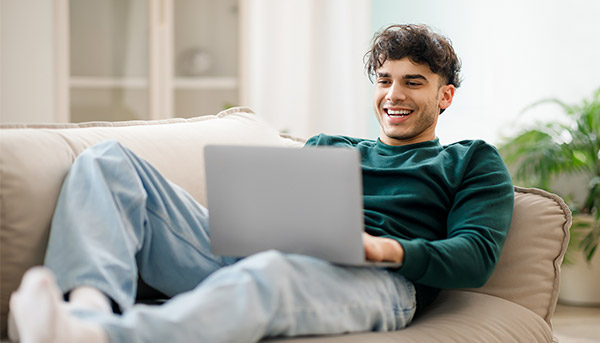 If you're under 18 years of age, you must successfully complete a driver education course before you can obtain a provisional permit in California. While California specifies no minimum age at which a teen may start driver education, you cannot earn your provisional permit until you're at least 15½ years old. We recommend, therefore, that prospective motorists start their driver education sometime between the ages of 15 and 15½. That will give you plenty of time to truly learn and know the material, yet the information will still be fresh in your mind when you go to take the written test for your permit.
Upon passing a driver education course, you'll be issued an official Certificate of Completion. Be sure to take this document with you when you go to the DMV to apply for your permit! In order to take the DMV's written exam, you'll have to present:
a Certificate of Completion of Driver Education; or
a Certificate of Completion of Driver Education and Driver Training; or
a Certificate of Enrollment in an Integrated Driver Education and Driver Training Program
---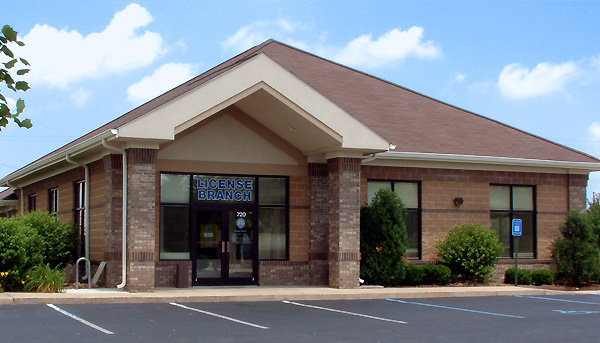 To get your permit, you'll need to go to a DMV office. Dealing with a government agency can be stressful—but don't worry. If you're prepared, things will go much more smoothly!
For starters, we strongly encourage you to make an appointment in advance.
Also, be sure that all of your paperwork is in order before you head to a DMV office to apply for your permit. To apply for your provisional permit, you must be at least 15½, but under 18 years of age. You will also need to:
present an original form DL 44, completed and signed by you and your parent(s)/guardian(s)
present proof of completion of driver education
present identifying information

give your true full name, if your name no longer matches the name on official documents
provide your Social Security number
verify your birth date and legal presence
give a thumb print

pay the licensing fee (This fee entitles you to three exams within a 12-month period and pays for both the instruction permit and the driver license. If all requirements are not met within a 12-month period, the application becomes void and all steps must be completed again.)
pass a vision exam
pass the DMV's written exam (by correctly answering at least 38 of the 46 questions; if you fail an exam, you must wait seven days before taking it again)
Click here for this list as a printable checklist.
(The DMV provides handy checklists detailing what you need.)
Your instruction permit is not valid until you start your behind-the-wheel training with an instructor or you reach age 17½.
---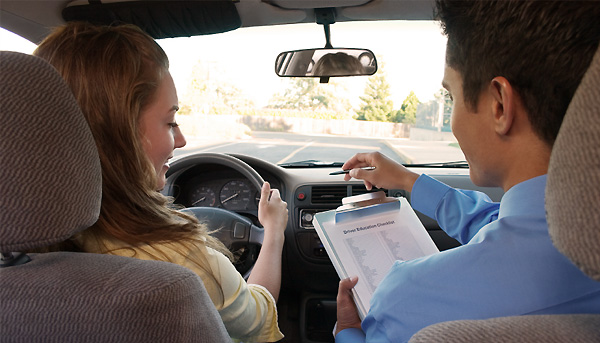 3. Complete Driver Training ("Behind-the-Wheel") back to timeline
State law requires that you complete at least six hours of driver training with a professional instructor. Legally, you must do so before starting parent-/guardian-supervised practice driving.
To locate a friendly and professional driving school near you, click here.
Driving is one of the most dangerous things you're likely to do on a daily basis, and it pays to know how to do it well. While it's possible to obtain a license with just six hours of driver training, we strongly encourage you to complete 12 – 18 hours of behind-the-wheel instruction. You'll be a better driver for it!
---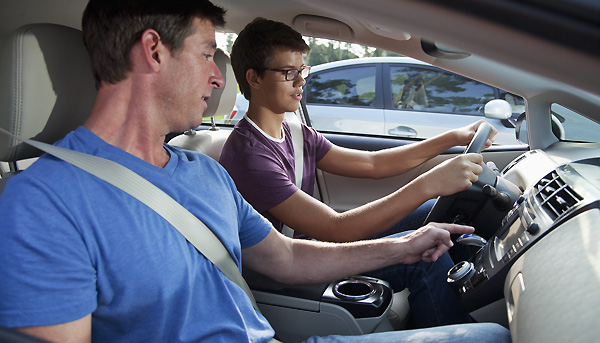 4. Practice, Practice, Practice! back to timeline
Congratulations! You've passed driver education and you've finished your behind-the-wheel training. You must wait at least six months from the time you got your permit before you may apply for your first driver license. During that time, you're expected to practice your driving under parent/guardian supervision. Prospective licensees are required to complete:
at least 50 hours of supervised practice driving
at least 10 hours of which must be done at night
Use this time to get as much practice as you can. While your parent/guardian must certify that you've completed at least 50 hours of practice driving, as with driver training we strongly recommend that you get 2 – 3 times the required minimum!
To help you keep track of your supervised practice driving, you can download our handy practice driving log.
To help your parents—who, we can assure you, are as anxious as you are about this new phase of your maturity—we offer our outstanding parent-teen supervised driving guide, Teen Your Teen to Drive…and stay alive.
While driving is a serious responsibility, remember that it should also be fun! Try to stay calm behind the wheel, and don't get too frustrated. Remember to be courteous to other users of the road and that a friendly wave can do a lot to smooth things over with others if you make a mistake. With a little experience, you'll be just fine!
---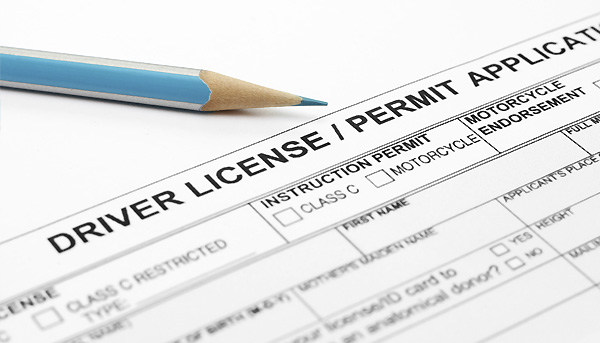 To apply for your first driver license, you must be at least 16 years old and have held your permit for at least six months.
Again, you'll need to make a trip to a DMV office. And this time, you must make an appointment to take your driving exam.
You will need to take with you:
proof of your true full name
your Social Security number
an acceptable document that proves your birth date and legal presence
proof that you completed driver education and behind-the-wheel training
your permit, which must be signed by the your parent/guardian or instructor
valid vehicle registration
proof of financial responsibility
(The DMV provides handy checklists detailing what you need.)
Then you'll just need to pass the driving exam and you'll be a licensed driver!
Remember: You must make an appointment at the DMV office to take your driving test!
The California Provisional Driver License
The State of California has a graduated driver license system, which grants to drivers more privileges as they gain experience behind the wheel. The license that you will be issued before you are 18 years of age is called a provisional license, which is a form of restricted license. If you are a new driver who is at least 16 years old, but younger than 18, you must observe these restrictions:
During the first 12 months that you have your license, or until you turn 18, you may not drive between 11 p.m. and 5 a.m., unless accompanied by a licensed driver at least 25 years of age (exceptions can be made for medical, school, employment, or family needs).
During the first 12 months that you have your license, or until you turn 18, you may not transport passengers under the age of 20, unless accompanied by a licensed driver at least 25 years of age (exceptions can be made for family needs).
Your failure to observe these restrictions could lead to court-ordered community service or a fine. A citation (ticket) will be issued if you are stopped for another violation.
Remember that maintaining a clean driving record is especially important during this time! A citation or an at-fault crash will result in a warning from the DMV. Further, such incidents will result in your license being (further) restricted or suspended, and can keep you from getting your full license in a timely manner.
You get a full license when you turn 18—if you have no DMV- or court-ordered restrictions or suspensions. You don't even have to go back to a DMV office to get it; the DMV will "upgrade" you automatically.
Happy motoring!!!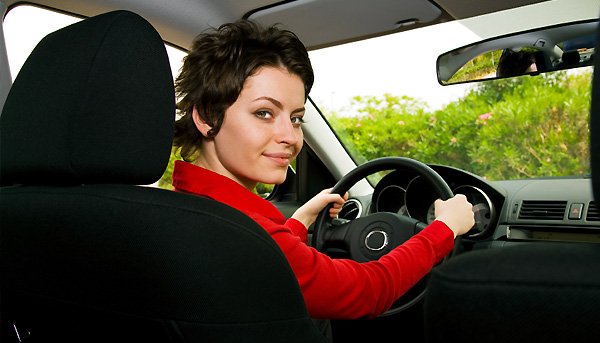 Licensing for Drivers Over 18
If you're over the age of 18 and wish to be licensed to drive, you must:
Apply for a license and pass the written test.
Obtain a permit so you can legally practice driving. Schedule a DMV driving exam once you feel comfortable behind the wheel.
Pass the DMV driving exam.